BUY THE LOST CAUSES OF BLEAK CREEK
NOW AVAILABLE IN PAPERBACK AND HARDCOVER!
The Lost Causes of Bleak Creek is a thrilling and darkly funny novel about two best friends fighting the sinister forces at the heart of their Southern town.
"Stranger Things meets the South. Chilling, hilarious, and suspenseful—I loved it!"— Felicia Day
It's 1992 in Bleak Creek, North Carolina, a sleepy little place with all the trappings of an ordinary Southern town: two Baptist churches, friendly smiles coupled with silent judgments, and a seemingly unquenchable appetite for pork products. Beneath the town's cheerful façade, however, Bleak Creek teens live in constant fear of being sent to The Whitewood School, a local reformatory with a record of putting unruly teens back on the straight and narrow—a record so impeccable that almost everyone is willing to ignore the mysterious deaths that have occurred there over the past decade.
At first, high school freshmen Rex McClendon and Leif Nelson believe what they've been told—that the students' strange demises were all tragic accidents. But when the shoot for their low-budget horror masterpiece, PolterDog, goes horribly awry—and their best friend, Alicia Boykins, is sent to Whitewood as punishment—Rex and Leif are forced to question everything they know about their unassuming hometown and its cherished school for delinquents.
Eager to rescue their friend, Rex and Leif pair up with recent NYU film school grad Janine Blitstein to begin piecing together the unsettling truth of the school and its mysterious founder, Wayne Whitewood. What they find, with Alicia's life hanging in the balance, will leave them battling an evil beyond their wildest teenage imaginations—one that will shake Bleak Creek to its core.

CONGRATS TO OUR WINNERS:

BRIAN NESS
ALEXANDRIA, VIRGINIA

SOPHIE LANCHEZ
CORONA, NEW YORK

WATCH THE LTAT SEGMENT BELOW TO SEE HOW IT ALL WENT DOWN!

BUY RHETT & LINK'S BOOK OF MYTHICALITY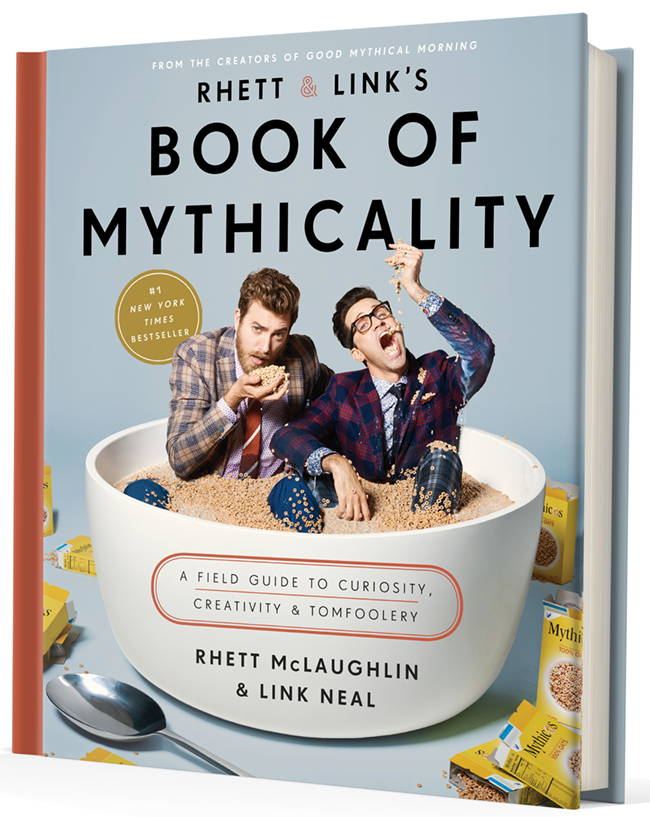 Rhett & Link's Book of Mythicality is the ultimate guide to living a "Mythical" life, featuring stories and photos from Rhett & Link's lifelong friendship, as well as awesomely illustrated tips for laughing more, learning more, and never taking yourself too seriously.
A hilarious blend of autobiography, trivia, and advice, Rhett & Link's Book of Mythicality: A Field Guide to Curiosity, Creativity, and Tomfoolery offers twenty ways to add "Mythicality" to your life, including:
​• Eat Something That Scares You
• Make a Bold Hair Choice
• Invent Something Ridiculous
• Say "I Love You" Like It's Never Been Said
• Speak At Your Own Funeral
​The goal of these offbeat challenges? To learn new things, laugh more often, and earn a few grown-up merit badges along the way. Heartfelt, completely original, and filled with activities, this book will be the perfect gift for anyone looking for a fresh dose of humor and fun.